Gil and Jim Johnson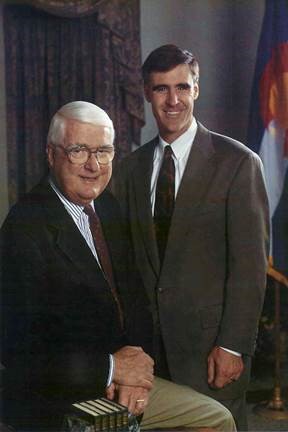 As chief executive officer of the GE Johnson Construction Company, Jim Johnson built upon his father's legacy. To be sure, the company founded by his late father, Gil Johnson, remains what it has been for decades — a major player in Colorado's construction industry. It is Colorado Springs' largest locally owned and operated commercial builder, and also one of the largest in the state and Rocky Mountain region.
GE Johnson is credited for having built, expanded or renovated all or portions of some of the highest profile structures in Colorado Springs, including The Broadmoor, World Arena, Pikes Peak Center, Pikes Peak Community College, Fountain Valley School, Air Force Academy, Penrose Hospital and El Paso County Justice Center. Other Colorado projects include the Park Hyatt Beaver Creek, One DTC office building and St. Anthony's West Hospital. Outside of Colorado, GE Johnson has worked on schools, hospitals, prisons, high-end resort housing and advanced technology buildings.
Jim has played an active role in every division of the GE Johnson Construction Company since he began as a laborer in 1976, eventually serving in the role of vice president before becoming president and CEO in 1997. Responsible for leading the strategic vision, culture and board of directors of GE Johnson, Jim's passion for community service and client satisfaction drives him as he continues to direct the company in its 50th year of operation.
Jim and his late father, Gil, are both known for charitable contributions and community involvement. Jim is a current board member of the Colorado Community College System – State Board for Community Colleges and Occupational Education. He has served on the Kansas State University Foundation board of trustees; Kansas State University College of Engineering advisory council; Kansas State University Alumni Association board of trustees; and the boards of YMCA of the Pikes Peak Region, Colorado Business Committee for the Arts and Discover Goodwill of Southern and Western Colorado. He is also a member of the Young Presidents Organization and Colorado Concern.
Jim, an avid long-distance runner, and his wife, Laura, have four adult children. They live in Colorado Springs and enjoy spending time at their ranch outside of Westcliffe, Colorado. They also like spending time outdoors with their family, horses and dogs. ​