Ray Buyle| Department Head and Professor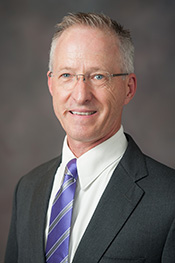 Tointon Construction Management Chair
M.S. - 2010, Kansas State University
Curriculum and Development
B.S. - 1984, Kansas State University
Construction Science
Contact Information
2049 Seaton Hall
785-532-5964
rbuyle@k-state.edu
Professional Experience
Ray Buyle received a Bachelor of Science degree in construction science from Kansas State University in 1984. He worked for The Law Company Inc., Wichita, as a project controller, and assistant superintendent for a year and a half in Raleigh, North Carolina, and Tampa, Florida. He returned to Kansas in fall 1986 to become a project manager with S/S Builder Inc., Topeka, where he worked for seven years and earned a promotion to vice president of project management. He spent the final 14 years of his construction industry career as a project manager and senior project manager for McPherson Contractors Inc., Topeka, managing a wide array of commercial construction and development projects including office buildings, schools, banks, grocery stores and aquatic/sports facilities.
Following a 23-year career in the construction industry, Buyle accepted a full-time position as an instructor with the department of architectural engineering and construction science, or ARE/CNS, at K-State in the fall of 2007 while pursuing a Master of Science degree in curriculum and instruction in the College of Education there. Upon completion of his terminal degree in 2010, Buyle was promoted to assistant professor. He earned the designation as a certified professional through the Design-Build Institute of America in 2012. He was promoted to associate professor with tenure in June 2015 and became department head in 2017. Buyle was promoted to professor in 2021.
Buyle's responsibilities include teaching two to five courses each semester and advising 45-55 undergraduate students. He is also involved in the Associated Schools of Construction, or ASC, national professional development committee and national IT committee. Buyle is the program coordinator for the ASC Region 4 Design-Build Student Competition and is on the ASC Region 4 career fair subcommittee. He holds the Tointon Construction Management Chair in the ARE/CNS department.
Research
Through his Tointon Construction Management Endowed Chair, Buyle pursues creative inquiry research projects for undergraduate students involving alternative project delivery methods, as well as service to the community and the industry. He has led nine, annual one-week volunteer service projects, which involve 19 to 30 students working on low-income housing and helping with national disaster relief efforts throughout the U.S. In conjunction with ARE/CNS faculty and students, he assisted the Nemaha County Military History Museum in developing a site and building assessment to prioritize restoration needs and funding priorities, conducted a value engineering/best practices report for a national fast food restaurant franchise and conducted a design-build, pre-construction services feasibility study for the Kansas Forestry Service. He also volunteers with the local Habitat for Humanity affiliate and other local not-for-profit entities to work on low-income housing in need of facilities repairs and improvements.
Research keywords
Alternative project delivery, pre-construction services, value engineering, community service
Academic Highlights
Buyle received the Larry and Laurel Erickson Public Service Award from the College of Engineering in 2018 and the Dean's Award of Excellence for Service in 2017. In 2016 he received the AGC of Kansas Fellowship, Associated Schools of Construction Outstanding Educator Award and Associated Schools of Construction Regional Teaching Award. Other awards include the 2015 AGC of America Outstanding Educator Award; 2015 Richard M. Kerschen AGC Faculty Award; 2014 College of Engineering Dean's Award of Excellence; 2014 AGC of Kansas Professorship; 2013 Tointon Construction Management Chair; Eugene Thorson Faculty Award sponsored by Mark Hutton and selected by AGC student chapter officers in 2009, 2010, 2011, 2013 and 2017; 2012 Richard and Hannah Kerschen Teaching Excellence Award; 2012 Target Construction Challenge Coin recipient; 2010-2011 Kansas State University College of Engineering Advisor of the Year; 2010-2011 K-State Office of Student Activities and Services University Advisor of the Year; and 2008 Kansas Contractors Association Construction Education Foundation Faculty Award.