Fred Hasler, P.E. | Professor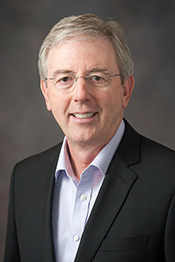 John W. and Dorothy M. Burke Architectural Engineering Chair
Architectural Engineering Program Coordinator
M.S. - 2008, Kansas State University
Architectural Engineering
B.S. - 1981, Kansas State University
Architectural Engineering
Contact information
2063 Seaton Hall
785-532-3557
fhasler@k-state.edu
Professional experience
At K-State, Hasler has taught several fundamental and advanced design courses related to general construction and mechanical/electrical/plumbing systems for buildings. He also teaches the department capstone course MEP for senior students. In total, he has been responsible for developing and teaching 15 different courses over the past 13 years. He is the Architectural Engineering Program coordinator, dealing with curriculum and assessment issues. Hasler serves as the faculty advisor for K-State Illuminating Engineering Society (IES) and Phi Alpha Epsilon (PAE) department student organizations.
Prior to coming to K-State, Hasler spent 24 years in industry with MEP firms designing and managing many types of buildings. He continues to consult on many aspects of MEP systems design, allowing current trends and design tools to be incorporated into the ARE curriculum. Hasler is a licensed professional engineer in Kansas and Texas, a certified GeoExchange Designer and LEED AP.
Research
Hasler's research interests include lighting design, architectural lighting controls, health benefits of lighting and application of MEP systems in buildings. Research projects and involvement in industry standards publications have included professional educational materials for a major lighting controls company, IES recommended practice RP-11 and RP-38. He has assisted the college of engineering, K-State Engineering Extension, K-State Pollution Prevention Institute, and the City of Manhattan on various lighting and HVAC design, installation and ordinance creation issues.
Academic highlights
In 2011, Hasler received the College of Engineering James L Hollis Award for excellence in undergraduate teaching, Deans' Excellence for Service, and the 2019 Charles H Scholer Faculty Award. He has also received numerous Department teaching awards and two Illuminating Engineering Society Presidential Awards for service. Hasler has coached teams earning six 1st and two 2nd place awards in the ASHRAE Student Design international competition.